Browsing all articles in Board Games
Posted in Board Games by ToyMaster
Ravensburger Scotland Yard Junior Board Game
This clever detective game has won awards and fans across the world. Now its available in a Junior version, suitable for sleuths aged 6 years upwards. Mister X, the master criminal, is on the run across London. Can you work as a team with other players to capture him; The exciting hunt for mister x across london; 36 pieces. Size of completed puzzle 32 x 44cm. For ages 5 years and over.
EAN: 4005556212583
Posted in Board Games by ToyMaster
Runewars Miniatures Board Game Core Set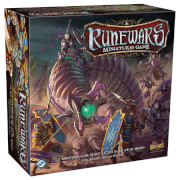 | Retailer | Price | Discount Code? | P&P | |
| --- | --- | --- | --- | --- |
| | £79.99 | No | £3.95 | |
| | £89.99 | Yes | | |
Runewars: The miniatures game is a two-player miniatures game of battles between the great powers of territory. In each game, you and your opponent will gather armies of miniatures and lead them into battle-blocks of infantry will manoeuvre for position, cavalry wings will wheel and slam into a weakened flank and monstrous rune golems or carrion lancers will smash through formations of lesser warriors. Enhanced command tools, two distinct factions and countless ways to customise your experience combine to offer an unparalleled miniatures gaming experience in Runewars. Finally, with 48 beautifully sculpted, unpainted figures, you
EAN: 841333102289
Posted in Board Games by ToyMaster
Ultra Dash Box Board Game
Move fast when the colours flash! Set out the targets to design your course, press the button on the tagger to choose your game, and then race to match the colour of the flashes with the targets! There are 3 Game modes: Beat the Clock, Target Tally and Relay Race-it's a different game each time you play! Play solo, head-to-head or team vs. team; ideal for 1 or more players.
EAN: 93514070157
Posted in Board Games by ToyMaster
Smart Ass Board Game
| Retailer | Price | Discount Code? | P&P | |
| --- | --- | --- | --- | --- |
| | £11.99 | Yes | | |
| | £12.99 | No | | |
| | £15.99 | No | £3.50 | |
Like playing games but don't like waiting around for your turn? With Smart Ass, you don't have to wait! This is a game all about shouting out and having fun. In the quick-fire game, each question has 10 clues and the first player to shout out the correct answer wins the round. Could you be the 'Ultimate Smart Ass'?
EAN: 794764013603
Posted in Board Games by ToyMaster
Paul Lamond Games Gogglebox Board Game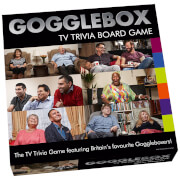 | Retailer | Price | Discount Code? | P&P | |
| --- | --- | --- | --- | --- |
| | £15.99 | Yes | | |
| | £26.99 | No | £3.95 | |
Gogglebox is a fun-packed TV trivia board game based on the BAFTA winning observational documentary series. Answer TV trivia, ad break questions as well as questions on the Goggleboxers themselves to try and win Gogglebox tokens. The first player to collect 8 gogglebox tokens and get back to the start is the winner. A game for up to four players. Contents: playing board, 6 coloured pieces, 1 die, 105 ad prize tokens, 1 pack win the ads; cards, 1 pack ant and dec challenge cards, 1 minute sand timer, rules. 2 or more players. For ages 8 years and over. WARNING(S): Not suitable for children under 3 years old.
EAN: 5012822048455
Posted in Board Games by ToyMaster
Hasbro Gaming Cranium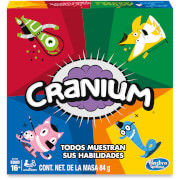 | Retailer | Price | Discount Code? | P&P | |
| --- | --- | --- | --- | --- |
| | £19.99 | Yes | | |
The Cranium Game is outrageous fun and gives players a chance to show off their talents. Players team up to cruise around the board completing activities in 4 color-coded categories: Creative Cat, Data Head, Star Performer, and Word Worm. One team picks a card from the category that matches their space on the board, and must successfully complete the activity before time runs out. The first team to reach the Cranium Central space and complete one last challenge wins! Players Show Off Their Talents The Cranium Game includes 600 mind (and body) challenges. Players team up and complete hilarious activities from 4 categories. Since the activities span talents, every player can have a chance to show off what they're good at — whether it's spelling, sculpting, puzzling, acting, or humming. The Cranium Game is outrageous fun for everyone. Simply cruise around the gameboard completing color-coded activities within the 1-minute time limit. Reach the Cranium Central space and complete one final challenge to win. Everyone Shines The Cranium game lets players show off their individual talents. Want to be center stage? Then act and hum in the Star Performer category. For those with an artistic flair — sketch, sculpt, and draw stick-figure masterpieces with activities in the Creative Cat category. The Data Head category is for players who know all sorts of facts. Last but not least, clever wordsmiths can show their stuff with the Word Worm questions. Pick a category, complete a challenge, and win! Fun for Parties The Cranium Game can be great for parties because players team up to win. With 4 categories to choose from, every player can have the chance to show off their skills. Spelling a word backwards, drawing with their eyes closed, and solving a puzzle are just of few of the activities they might do. It's hilarious and outrageous fun! Features: Players can show off their talents Featuring word play, sketching, sleuthing, acting, and more Move around the board Complete activities in 4 fun categories Play in teams Fun party game
EAN: 5010993379828
Search
Recent Posts
Get Social With Us!
Categories
Pages
Toy Retailers
Popular Tags
Toy Archive